We are all about Stories. Your story, my story, the stories of the people
who have made San Francisco and the Bay Area what it is today.
Come tell us your story and if you have a moment, listen to our own.
June 4, 2009
Historic Restoration, New Cultural Center
for the Mission Street Corridor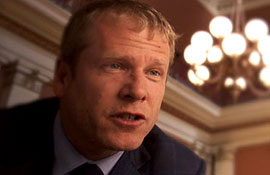 Executive Director Erik Christoffersen introduces the concept of the The Mint Project's museum, cultural center, and historical restoration.
June 4, 2009
New Center becomes a Gateway to Landmarks & Neighborhoods
Lori Fogarty, Executive Director of the Oakland Museum of California, explains the gateway concept.
June 4, 2009
An 1864 Landmark
A Window to the Future
Web entrepreneur Janice Fraser and preservation architect Jay Turnbull discuss the wonders of San Francisco's Old Mint building.