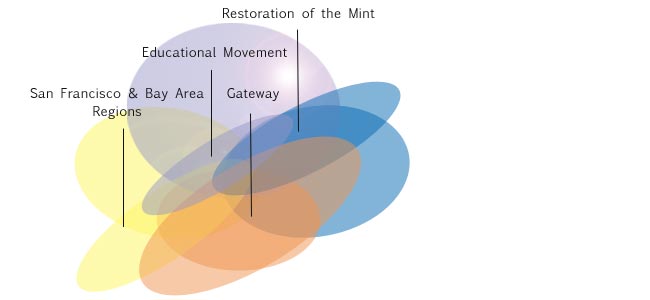 How it Works
Our bold plan creates a cultural institution dedicated to the men and women who shaped the San Francisco Bay Area into the rich and diverse place it is today and to explore their continuing influence on our community, nation and world. Recognizing that one cannot transform the future if one does not understand the past, the Mint Project focuses on sharing insights from the past to inspire visitors to shape a better future for themselves and their communities. Our approach...
Builds an EDUCATIONAL MOVEMENT around the importance of history in our daily lives. Our interactive mix of exhibits, participatory experiences and educational programming seeks to make the study of history as important as math, science, and the language arts.

Restores the Old Mint Building, a National Historic landmark located in downtown San Francisco, to become the PHYSICAL EPICENTER of our institution and our educational movement. Physical and virtual links will extend its reach;

Establishes the Mint as a GATEWAY or front door to the San Francisco Bay Area—a place that provides an orientation and introduction to the rich cultural assets of the region because one building alone cannot properly preserve, interpret and present all of the area's historically significant stories, artifacts, and experiences; and

Focuses specifically on SAN FRANCISCO & THE BAY AREA to interpret the context of this region and how it came to be as it is today, but also to illuminate the extensive impact this region has had on the greater nation and world.