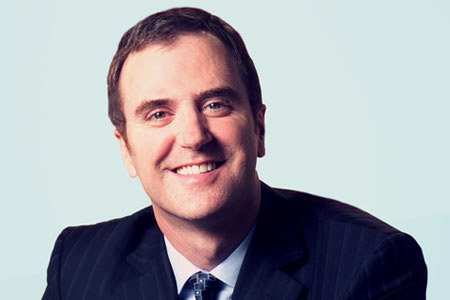 Paul Woolford
Named an "Outstanding Young Architect of the Year" by the American Institute of Architects, Paul Woolford is responsible for some of HOK's most complex and creative buildings. Paul is a Senior Vice President and Director of Design for HOK's San Francisco office. He is a recognized industry leader, whose work has focused on sustainable design, garnering the first Silver LEED® Award in the southern United States. His work has been honored with numerous awards including: Research & Development magazine's "Laboratory of the Year Award" in 1997; the "AIA 2005 National Design Excellence Award, 2006 South Atlantic Region AIA Design Excellence Award and the 2008 Dedalo Minosse International Honor Award" for the State Archives and Library of Georgia. Paul earned his Bachelor of Architecture at Cornell University with honors in 1983. He has been active in the AIA at the state level as an officer, and at the national level, having served as chair for the Young Architects Forum (YAF) and on the AIA Emerging Professionals Task Force (EPTF). He has both chaired and been a juror for AIA design awards. Mr. Woolford's civic involvement includes numerous national and local Board of Trustee positions. Paul has taught design at the University of California, Berkeley; Cornell University; and Savannah College of Art & Design. He lectures around the world on environmental and design issues for organizations including AIA, USGBC, SCUP, and ULI.
HOK/San Francisco
Celebrating its 50th anniversary in 2005, HOK is a design and professional services firm with more than 2,500 employees and 24 offices worldwide. According to journal surveys in World Architecture, Building Design & Construction, and Engineering News Record, HOK is consistently ranked among the world's largest A/E firms. HOK is currently listed the top firm in ENR's inaugural ranking of the world's most sustainable A/E firms.
HOK/San Francisco was established in 1966 and now provides a full range of design services and is recognized for its expertise in research laboratories, airport terminals, corporate and commercial office buildings, hospitals, courts and other government projects. The firm has contributed on several Bay Area landmarks including Levi's Plaza, the original George R. Moscone Center, Apple R&D Center, the Museum of Modern Art, the Asian Art Museum, and AT&T Park. Recognized for its leadership in sustainable design, the San Francisco Business Times recently gave HOK the first 2008 Green Business Award for Architecture.
The office's current list of projects demonstrates its varied and highly sustainable practice: San Francisco Mint; National Oceanic and Atmospheric Administration (NOAA) Research Headquarters on Pearl Harbor; East Contra Costa County Courthouse; City of Fremont Downtown Specific Plan; California State Teacher's Retirement System (CalSTRS) Headquarters in West Sacramento; the New Doha International Airport in Qatar; UC Davis Veterinary Medicine Laboratory; Kaiser Hospital, Redwood City; San Francisco Public Safety Building; Bay Meadows Mixed Use Development.