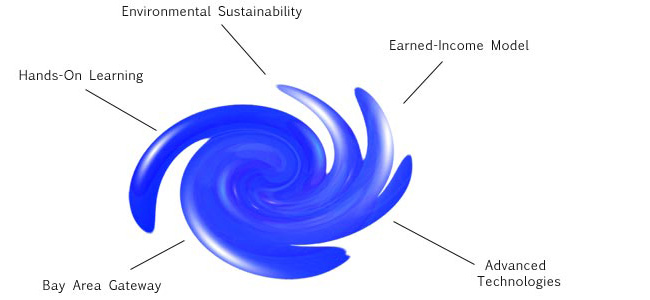 What's Innovative
Innovation requires either the introduction of something altogether new or making changes to something established in order to create something new. The San Francisco Museum and Historical Society has approached the Mint Project as an opportunity to innovate history learning on both levels. The Mint Project, in and of itself, is an innovation for it will become the first cultural institution dedicated to telling the stories of the men and women of the San Francisco Bay Area and how their contributions impacted the United States and the World. But in order to accomplish its bold plan, the SFMHS has sought to innovate many other aspects of this ambitious project:
Stewarding Environmental Sustainability - when renovated, the Old U.S. Mint will be the only LEED Platinum certified National Historic Landmark in California and the U.S. The 100,000 square foot restoration provides a unique opportunity to demonstrate sustainable design in a public setting and set a precedent for existing buildings and landmark structures to follow. Some of the key strategies to be implemented include: natural ventilation, radiant cooling and heating, photovoltaic power and energy recovery;
Earned Income-Focused Business Model - revenues from several on-site experiences (e.g., museum, private events, merchandise, foods & beverages, and Visitor Information Center) will cover 85% or more of the Mint Project's operating costs, significantly above the typical 20% to 50% of more traditional museums;
Advanced Technologies - the adaptation and incorporation of several different data-mining and customer service technologies will greatly enhance the visitor experience at the Mint. Examples include:
Mobile Data Platform - wireless network tracks visitors through exhibit galleries and delivers custom content on demand
Interactive "Smart Tables" - enable additional personalized exploration of museum content
E-Ticketing System- enables advanced purchase and streamlined operations
Item "Tagging" - allows each visitor to customize their visit based on their personal items of interest
Bay Area Gateway – the Mint will be a starting point that offers a comprehensive orientation to both visitors and residents seeking to explore the region's unique treasures;
Hands-on History Learning – incorporate experiences that enable the visitor to create, curate, and engage in the development of exhibit content. The exhibits are designed to change frequently, integrating new artifacts, stories, and perspectives often, as well as enabling visitors to contribute their own stories and insights.